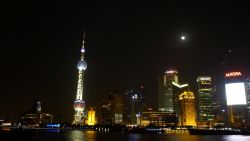 Shanghai is lovely. Not much to see in terms of tourist attractions and history sights, but the general city vibe is amazing. Shanghai is a city, where glass-clad skyscrapers share premium space with European neo-classical architecture and traditional Chinese buildings. Futuristic highways up in the sky penetrate city center and bridges look like they have been borrowed from the Bladerunner universe. While Beijing is conservative and communist, Shanghai is hip, trendy and international. You don't get stared at here for being a foreigner. All that makes you almost forget that you are still in China.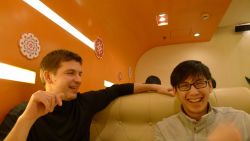 I spent five days in Shanghai mostly walking around. Ironically enough lack of major tourist sights make Shanghai quite a budget city – walking does not cost a lot after all. Met a high-school friend, who lives and works in Shanghai (greetings from Petrovich to everyone). Got a food poisoning, which thankfully went away quite quickly. Never got a chance to taste Shanghainese cuisine, but this is the only damage I suffered from the poisoning drama. Managed to check out local nightlife twice. The first time to a jazz club with some live music, which was lovely. And the second time to Shelter club for some minimal techno action from the UK. The club is a former bomb shelter – dark, claustrophobic and filled with loud repetitive techno beat. Just what the doctor ordered. Also attempted to go out on a third night (or rather tagged along) with some random acquaintances from the hostel to a very posh place Bar Rouge with cover charge of 100RMB, but the whole gang was turned away already 10m from the door on the basis of inappropriate dress-code. Not surprising really, as I wore same clothes as I did in Siberia and Mongolia. The rest of the crew were not in any better position, apart from French girls. This must be the first time I did not get into a club because of the dress-code discrimination. woot!
The next stop after Shanghai was Huangzhou and I planned to continue to Huangshan after that, but it turned out not as I expected. More on that later.