Sihanoukville is a sinful, shady place. Prostitution, drugs and partying Vang Vieng style. I had heard so many negative things about the place that it made me reluctant to visit it at all. Then I learned that it was a chav capital of Cambodia akin to Had Rin on Ko Phangan or Vang Vieng in Laos and it made me want to see this bizarre place
I spent two nights in Sihanoukville, one night before and another night after Koh Rong, and it was not bad at all. I did not want to escape the city at any point and had a nice time. I did not bother to socialize with pretty much anyone or take part in the debauchery. Instead I slept a lot, ate a lot, walked around a lot and observed things around me. And surprisingly enough I found Sihanoukville rather enjoyable. Yes, there is nothing much to see, but there are some pretty beaches (as long as you walk away from Serendipity Beach), cheap food and the energy of the city is not that rotten at all. It is not as apocalyptic and overwhelming as Vang Vieng. Partying is concentrated around Serendipity Beach, red light district is limited to another area in Victory Hill and areas in-between are rather sleepy. Walk away a couple of kilometers from the party zone and it is undeveloped countryside with cows peacefully having a feast on grass. There are western style supermarkets all over the place, which is really surprising considering it is the developing poor Cambodia. I haven't seen any supermarkets in Vietnam for example.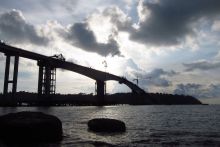 I paid a visit to Snakehouse – a restaurant specializing in Russian cuisine, a guesthouse, a snake house and a crocodile farm. All under one roof and all owned by a Russian man, Mikhail. One pissed-off cobra did not like me and immediately tried to attack me as I passed by its cage, but was stopped by a thick glass. We played a staring contest divided the glass for some minutes, but eventually I was attacked by mosquitoes and the cobra lost interest. It was a tie-game. A curious place. The strangest thing about Sihanoukville is a spectacular massive bridge connecting Snake Island with the mainland. A huge concrete bridge high enough to pass cargo ships under leading straight into the greenery of the island. There is nothing on the island apart from the jungle. Nothing at all. Without a doubt development will take place in the future, but for the time being it is just fascinating. I wanted to go to explore the island, but was stopped by a man with a machine gun. He promptly showed to turn around and go back. You do not argue with men armed with machine guns.