Si Phan Don aka Four Thousands Islands is an archipelago in the southernmost point of Laos, where Mekong reaches its widest point along its long journey. The area blooms in the dry season when thousands of islands emerge from the water. Some bigger islands are permanently inhabited like Don Kong, Don Khon and Don Det. Life here is all very old-fashioned, slow-paced and undeveloped. Don Det, the most interesting island out of the three, has no hospital, no police station, no postoffice, no ATMs. If you get sick, Pakse or Thailand are your best and nearest choices. In case you run out of money, they can arrange an ATM run for you. The island is connected to the electricity grid though, but this happened only a couple of years ago. The main village on the island shows the signs of the birth of a tourist oriented town, but walk 1km away to find slow Laos countryside with little signs of technological progress (apart from TVs and satellite dishes). Local people live their lives, never minding tourists. There is no Bob Marley coming from every other bard, but instead it is Lao music and locals post-maturely celebrating Lao New Year. There are free-roaming pigs and chicken, buffalos and cows, kittens and dogs. Cows's buffalos's prime time is during the night, when they freely roam on the roads creating road hazards. Walk even further away and you find rice fields and bush.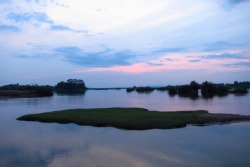 There are plenty of guesthouses and most of them are cheap and very basic: four walls, a roof, a bed, a fan and a shared toilet across the road. The idea of having to cross the road (Sunset Boulevard nonetheless!) for the toilet did not appeal to me, so I spent extra energy on finding a more substantial place to sleep. Little more expensive than most places, but the service was friendliest I have ever had. The family prepared food for me late in the evening (read 7PM), after the restaurant kind of closed for the day. Another time I left my laundry and they fixed my shirt free of charge! Cats and kittens were all over the place too. One of the cats paid me a visit once and ate a huge spider in the bathroom and a cricket causing a havoc in the room. Free of charge too.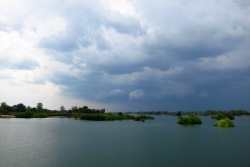 There is not a lot in terms of sights. Thousands of islands of different size and shape, a spectacular water-fall on the next island, tropical storms and sunset over Mekong. However, the latter is the only sight you ever need to see and it never gets old. Tropical storms are excellent night entertainment too. There is no boredom here though, only profound laziness. Laying in a hammock all day long, eyes closed and listening to music is something you can easily fill your entire stay here with. Never gets old too. The geography of the island reminded me of Sairee Beach on Koh Tao. Sunset Boulevard with restaurants on the water-front and bungalows further inland. The local landscape is breathtaking and has got a lot of potential, as well as many other natural wonders in Laos. I can see that in five-ten years the entire Don Det will rush to exploit tourism income. Fancy resorts with A/C and swimming pools will be built, free wi-fi will make roads and endless repeats of Friends and Family Guy will make it to every other bar. Sooner or later business oriented minds will join the party, though. Until then it is sort of a backpacker's paradise with its unspoiled nature, laid-back community and the slow-paced life of the extremely rural Laos.