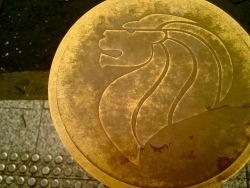 Shanghai, Hong Kong and Singapore – the great Asian triad of Bladerunneresque cities: vibrant, cosmopolitan, futuristic and slightly dystopic. Very Western on one hand, but on the other hand they all have a clear Chinese influence. I had my doubts about visiting Singapore, but after Shanghai and Singapore it felt logical to crown the Bladerunner tour with it and Sven Väth's gig at Zouk was a decisive factor. In the end I am glad I visited Singapore, as it is one of the most remarkable cities I have visited to date.
Singapore is certainly the most organized and tidy city out of the three. Tidy not only when it comes to cleanliness of the streets, but also architecture and the general condition of infrastructure. Hong Kong is not a dirty city by any means, but in comparison with Singapore it indeed feels a little bit filthy, which is something locals like to bring to attention when they talk about Hong Kong. Singaporeans do not like drawing parallels between Singapore and Hong Kong, even though the cities are obviously very similar. Might there be rivalry between two cities? As for architecture, Singapore might not be not as futuristic as in Shanghai, but still it has this modern trendy outlook. Unlike in many cities I have visited, where fancy buildings are limited to a designated area, Singapore features a whole range of interesting residential and corporate buildings. There are dull faceless block of flats in the outskirts of the city, but within the walkable distance from the city centre it is eye-candy as far as the eye can see. You do not need to spend money here to keep yourself entertained, just walking around the city and gazing at surroundings is a pleasure in itself. The city skyline makes an impression, but the prize here goes to Shanghai and Hong Kong. Singapore is a truly cosmopolitan city. While Shanghai made an impression of a very international city after Beijing and Hong Kong felt extremely international after the mainland China, Singapore leaves both cities far behind in terms of multiculturalism. In fact most of Singapore's residents are foreigners. Singapore's dystopia manifests itself in tight regulations, such as heavy fines for littering, incorrect parking and such. There is no freedom of press here too. It is all a little bit totalitarian, although it does not feel that way. It is more like Huxley's Brave New World utopia with great food, quality entertainment and hardcore shopping. Also it rained almost the whole time I was there resulting in one extra point for the Bladerunner connection. Shanghai gave me a food poisoning, Hong Kong retaliated with bed bugs and Singapore costed me one Haglöfs shoe, which just mysteriously disappeared upon my arrival. It is not easy sometimes.
Singapore was the southernmost destination of my journey and a logical to point to make a U-turn. From now on I will head roughly toward north-west. Back home towards the summer if everything goes according to the plan.
PS: And one last thing, most people have no clue when I mention the Bladerunner connection (some people do not even have any idea what Bladerunner is). I met this British girl, who was first to mention the Bladerunner thing regarding Singapore, which made me speechless. As it turned out she made a high-school project on the movie. I think I am in love.